WEDDING PAPERTY
SO INDIVIDUAL, SO UNIQUE & SO PERSONAL
EXCLUSIVE PAPERSHOP WITH A LOT OF PASSION, CREATIVITY, HEART AND SOUL
SO INDIVIDUAL, SO UNIQUE & SO PERSONAL
I have specialized in FINE ART wedding & event stationery and create noble and individual products far from mass-produced goods. Each piece is unique. I use high-quality materials with a lot of passion for craftsmanship and a lot of love for detail. I use only the finest, most luxurious materials and take pride in my finishing process and the products I use. For this reason, I work, among other things, with an antique letterpress machine and with an embossing machine for the blind embossing and foil embossing, such as a beautiful gold foil embossing. I also use papers from Italian mills that have been in the same family for generations, handmade papers from India and Nepal and hand-dyed silk ribbons from Japan. These small details allow me to design invitations and stationery sets that convey an unparalleled sense of old-world beauty. The intimacy and loving feelings between you, the longing and above all the uniqueness of your love for each other - I would like to give this magic a tangible expression for you and your guests with my handmade stationery.
Exclusive stationery with a lot of passion, creativity, heart and soul - discover and feel the difference and let yourself be seduced!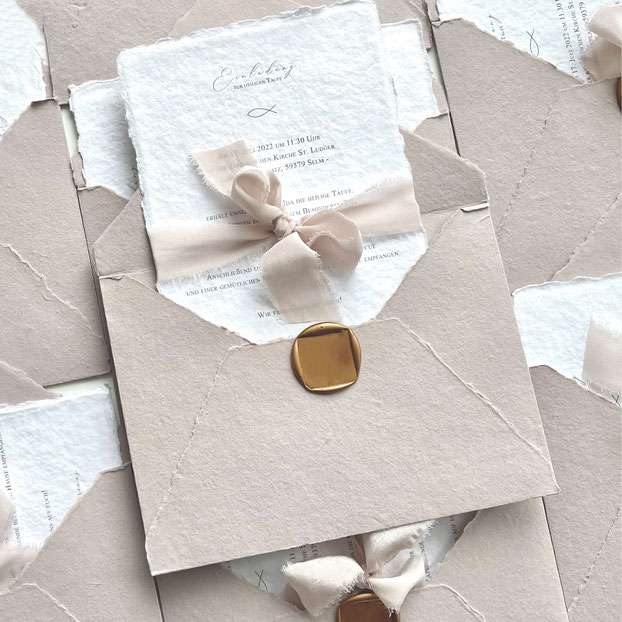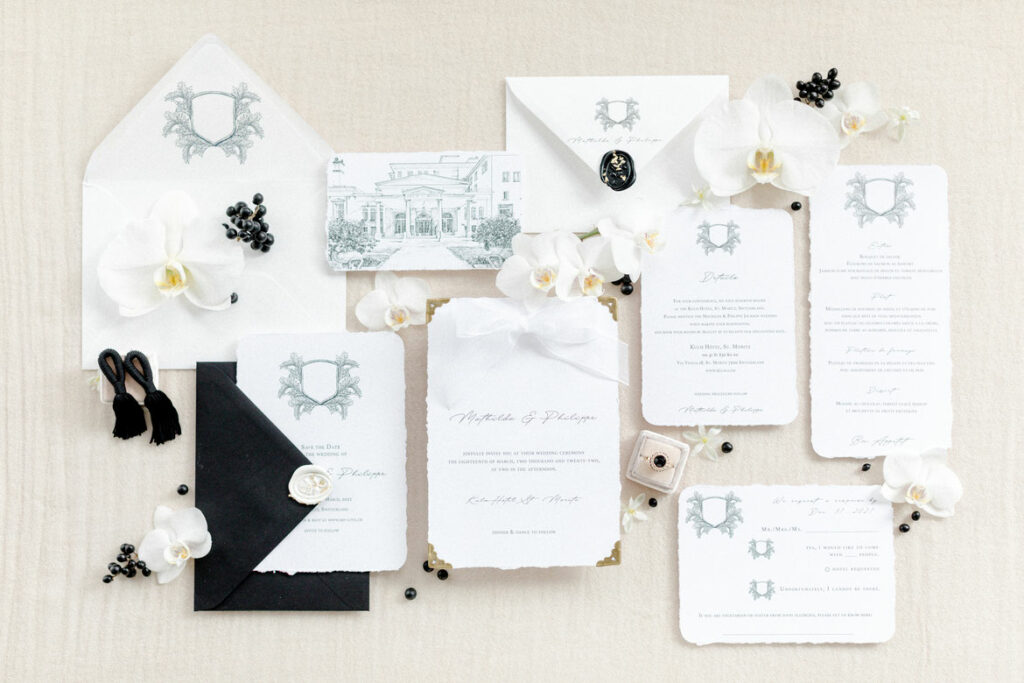 CREATION OF HEIRLOOMS ON PAPER
For nearly a decade I have sourced exceptional materials from around the world to create heirlooms that showcase a love story.
From the softest silk ribbon and finest Italian yarn to textured handmade paper and antique postage stamps, I have worked tirelessly to create thoughtful pieces that tell a love story and can be cherished for generations.
LET US TELL YOUR UNIQUE LOVE STORY
Your invitation will set the tone of your wedding. With bespoke invitations, you have the opportunity to work with me to create something that is a work of art that you can cherish long after your wedding day. My bespoke wedding invitations evoke a sentiment that clearly sets the design for your day.
We can transfer this aesthetic to all your papers. My goal is to create something beautiful that you will fall in love with and cherish for a lifetime.
INDIVIDUAL PAPER MANUFACTORY
What suits you? What do you wish? How would you like to invite your loved ones and guests, appreciate them and say thank you?
We will find out in a personal consultation! Together we think about materials, individual motifs, colors, possibly calligraphy, paper and finishes. There are no limits.
According to your wishes and ideas, I design your individual stationery concept for your unique and unforgettable day. The couples I work with always inspire me and I feel honored to be a small part of their story.
I look forward to working with you on your wedding stationery and to sharing my many years of experience with exclusive products and finishes with you.